Most of our branch lobbies (with the exception of our IBM Rochester and St. Paul locations*) have reopened for business.
 We've made a few changes for everyone's safety. 
We're requiring all customers and employees to wear masks.  We know it's a bit odd to ask you to wear a mask to the bank - so please briefly lower your mask

upon entering the branch so our security cameras can see your smiling face!

Just like many other places, we upped our cleaning/disinfecting game, added plexiglass shields and had to limit our restroom use by customers to emergencies only.
You will also see these stickers on the floor reminding all of us to keep our social distance as much as possible.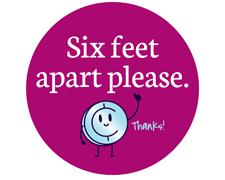 To limit the number of people in a branch at one time,  please come alone if possible, or only bring essential people who are necessary to conduct your business. If you are waiting to see a banker or advisor, we will ask you to wait outside or in your car.  We will text or call you when it's time to meet.

Take the pen! If you need a pen, we will ask you to take it with you. We know you may already have a bunch of them at home, but one more won't hurt. We'll get more!
The first line of defense is you and we need your help. If you or someone in your household may be positive with the coronavirus or aren't feeling well, please let us help you via a different method rather than in-person at a branch.
Our new safety procedures were developed based on guidance from the CDC and the Minnesota Department of Health, with the goal of protecting the safety and well-being of our customers and employees. 
We're excited to see you in person if that's how you want to meet your money!
*Please note that we will keep you posted as we establish reopening dates for our St. Paul and IBM branch locations.